Our first entry in this blog dealt with a slightly smaller convention.  For those feeling the need for something a little bit larger, you might consider sinking your teeth into Wizard World Cleveland!  It is important to note that the description herein is only for the Cleveland event as Wizard World has several events in different cities.  Also, this is for 2019 only.  Conventions change over time, so what is true this year may not be true the next, but I am sure you all already knew that!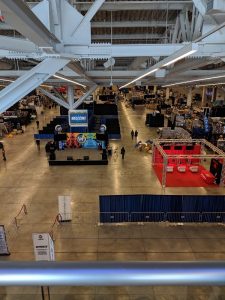 Size: 3 of 5
Offerings: 3 of 5
Timeframe: 3 days
Cost: $80 for all three days ($110 for VIP), variable costs for other benefits
Type: Pop Culture/Comic/Cosplay/Vendor
So, first I have to start by admitting that I didn't know quite what to expect when attending this show.  I have been to a number of conventions in my lifetime, but never one in which the focus is on the media guests.  At the conventions I have attended in the past, if there were guests, they were either a side note or a pleasant diversion that never really contended with the main focus of whatever show I was at, or at least this is how it appeared to me.
When I arrived in Cleveland, it was cold, and I was glad that parking was so close to the hotel.  I am sure this is no major piece of advice or revelation, but make sure to plan ahead when you are attending any convention that spans multiple days.  Find good overnight parking and, if possible, get a hotel that is within 2-3 blocks of the convention hall.  It is often a bit of a question as to whether it is better to pay a higher price for a hotel that already connects to where your event is being held, or is at least across street, or to go with one that is a bit further away to save on money.  If money is not an object, closer is definitely better, but through a bit of judicious searching, I found my room for less than a third of the price of the hotels that were a smidgeon closer to the convention center.  Sometimes for larger shows, you may just be lucky to find a room within a mile of the event, but I digress.
Ok, one more side comment.  I don't know what I expected out of Cleveland, but the downtown is pretty excellent.  The architecture is very nice with plenty of large stone buildings and a good mix of modern and more gothic structures.  The street naming leaves a little to be desired, but, what can you do?
Ok, on to the good stuff.  The strength of Wizard World seems to lie in its ability to diversify its offerings and give those attending a number of choices which include things you might not expect (that was certainly true in my case).  To be sure, the centerpiece of the show is in the guests that they bring.  This year was a truly good grouping of actors that seemed to revolve around participation in two long running shows; Charmed and Smallville.  This isn't to say that there were not others that did not fit this description, but one thing they all shared in common was a rather strong fan following, each in their own right.  This leads me to start with an analysis of the price structures.
I need to preface the cost discussion with a bit of a disclaimer.  Conventions can be a bit expensive.  If you want to experience everything they have to offer, you may pay a steep price.  However, they don't have to break the bank, and most shows do their level best to ensure that there are a range of options that can fit different price brackets.  Wizard World's $80 for three days really isn't too bad, especially for the value you get.  It is on par with the costs of most other conventions of its type.  Admission gives you access to the main vendor floor as well as the ability to meet the celebrities, attend the panels, and events which do not require an additional fee.  For an extra $30 you get the equivalent of the Disney/Universal Fast pass that ensures you a seat at the panels as well as a few other perks that I won't go into here.  Kids 10 and under are free with an adult admission.  For a family of 4, this can start to add up, if any of the children are over 10. With 3 passes the minimum becomes $240 plus parking which averages around $50 for 3 total days. A room will likely be around $700 if you stay nearby.  Although there are ways to mitigate food costs, many will likely net $50 per meal, so assuming 8 meals (Thursday night, all of Friday and Saturday and Sunday breakfast) this may add up to $400.  Attending the entire event (with these calculations) can come to roughly $1390, so long as you don't buy anything (you WILL want to buy things).  Not too shabby really.  I paid a lot more for that Universal vacation I alluded to earlier.  What can escalate quickly, however, are all the add-on purchases you can get with your attendance badge that will have a variety of costs. These will range anywhere from another twenty bucks to several hundred dollars.  Add-on options include certain workshops, and guaranteed autograph and photo ops with the celebrity guests. This of course does not include the many very cool things you can purchase at the show which also have a wide range of prices from five dollar knick-knacks to works of art or signed memorabilia costing thousands of dollars.  All things considered, I felt Wizard World Cleveland was priced pretty well.
As far as size goes, Wizard World was about perfect.  There was actually a dramatic difference between the attendance levels between all three days.  Friday was fairly sparse, Sunday had good attendance and Saturday was very busy.  Even at its most crowded, though, the hall was never so full that you felt that you were shoulder to shoulder with people the entire time.  Lines for the celebrities were reasonable and, at least at the panels I attended, there was never a problem getting a seat.  The great thing about this is that you have plenty of time to talk to the vendors and get a real idea of what it is that they do.  In addition, when coupled with the amount of time the con is active, you can truly get the opportunity to sample and do pretty much everything.  The only issue I had was not one that anyone could really have compensated for, I don't think.  When Jason Momoa was scheduled for Saturday, the convention center security tripled as did the attendance.  I got close enough to see the back of his head.  Once.
The Offerings category is where Wizard World really shines.  While it is true that the amount of vendor booths didn't fill the entire convention floor, the variety of what was offered was really impressive.  Most conventions are very specialized.  If you go to Gencon, expect to find games and related items.  Go to most comic conventions, and you expect to find comics.  Wizard World had the celebrities, artists, authors, cosplayers, food vendors, comics, games, knickknacks, options for kids, charities, and more.
In the next installment I will go into greater detail on exactly what was available this year and what I thought was really neat.